What is Notebook Hardware Control (NHC)
With Notebook Hardware Control you can easily control the hardware components of your Notebook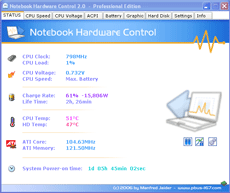 Notebook Hardware Control helps you to:
- control the hardware and system power management
- customize the notebook (open source ACPI Control System)
- prolong the battery lifetime
- cool down the system and reduce power consumption
- monitor the hardware to avoid system failure
- make your notebook quiet
Easy to use, friendly program surface and for free
NHC isn't only very powerful; it has a friendly program surface, it's easy to use and free for private use. A large number of users appreciate these advantages and NHC becomes one of the leading programs to control the power and hardware of modern notebooks.
NHC Professional Edition
With the Professional Edition of NHC you can have different user profiles and start NHC as service.
The user profiles allows you to change all NHC settings with one mouse click. The service allows you to use NHC on restricted (no administrator) user accounts. This will increase the security of your system. You can also use NHC on more user accounts at the same time.
The NHC Professional Edition can be used for the private and commercial use.
You will also support the NHC Project and the future development of NHC if you buy the professional edition of NHC.
G o o g l e l i n k s
DOWNLOAD
Windows 32Bit only!
This version does not support Windows 64 Bit.
(WinXP 64Bit, Vista 64Bit and Win7 64Bit are not yet supported)
The 64 Bit Version will be also available very soon.
Windows XP USER!
Note you must have Microsoft's .NET Framework Version 2.0 or newer installed.
Please remove all older versions of CHC/NHC first! It you need the Verdana font you can downlaod it
here
.
I'm
not
responsible for any damage caused by NHC! Use at your own risk!
Return to top
Interesting Links




G o o g l e l i n k s
You can support the NHC project if you buy on Amazon.de
or Amazon.com with the following sponsor links.
Return to top